Editorial Feature
---
Drone Major Group's Guide to Counter Air Drone Technology
Published January 17th 2019
Words By: Drone Major
Guide to Counter Air Drone Technology
The drone industry is quickly becoming one of the most potent and profitable industries in the world.  The rapid influx of air drone technology into the market has steepened the learning curve for both civilian and industry affiliates alike as concerns continue to increase over what can be done to mitigate the threat of air drone technology being operated by 'rogue' operators in sensitive or prohibited areas. Recent events such as the shutdown of both Gatwick and Heathrow airports in London highlight the true danger in waiting to adopt a counter drone strategy – drone advancements are not slowing down, so the only option is for organisations to catch up and prepare.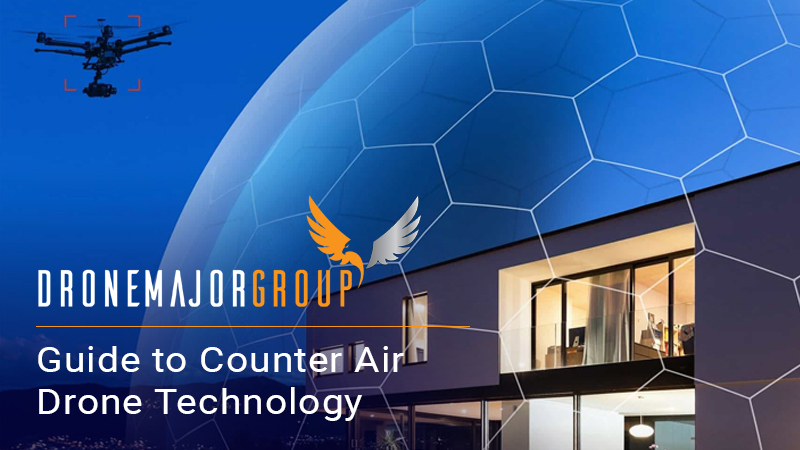 In light of the recent media focus on this issue, it is easy to think that air drone technology is a threat, if not just inconvenient to those who experienced delayed flights or evacuation.  It is hard to refute the latter, but Drone Major Group takes a firm stance that air drone technology is not inherently dangerous. Indeed, the advancements and innovations in the industry shed light on a promising future in terms of business advancements, life-saving applications, philanthropic aid and now even protection from the drone technology being abused by 'rogue' operators.  With safety and prevention at the front of many organisations' agendas, it is understandable that technology is seen as a potential quick fix. However, before jumping to technological solutions, Drone Major Group advises every organisation to first consider the internal policies and procedures required to ensure that, in the event of a drone sighting or interaction, all parties knows how to react.  Though it may seem elementary, implementing policies as simple as closing all office blinds upon a suspected air drone sighting can be revolutionary to security. To Drone Major Group, an internal audit addressing the following questions is the fundamental way to establish a lasting counter drone method:
In which environment (surface, underwater, air or space) is your organisation rendered most vulnerable to unwarranted drone interference?
If a rogue drone is detected, what are the immediate precautionary actions to be taken to protect the security of both personnel and any sensitive data?
After a drone interaction is confirmed, what will be done to remove the drone from the area?
Once the situation has been resolved, what can be learnt to further enhance procedures?
Once suitable policies and procedures are in place to safely and efficiently address an unwanted drone, an organisation may choose to explore the various Counter Drone technologies that have become available on the market.  Drone Major Group warns against the quick adoption of any technology, advising organisations to meticulously research and consult with various suppliers to avoid failed technological promises and ineffective results. Additionally, the legality of Counter Drone technology is dense and strict, often serving as the barrier between organisations and a technology based counter drone strategy. With hundreds of counter drone suppliers and technologies available, it is difficult for an untrained eye to determine what (if any) are most reliable and effective. Drone Major Group's approach targets two unique categories of Counter Drone strategy:  
"Hard Measures," which include technological innovations to "Detect, Track and Identify, and Defeat" rogue drones.
"Soft Measures," which include proper policy and procedure, industry expertise in threat identification and meticulous airspace management.
While the use of "hard" technology seems like the most foolproof way to comprehensively protect your organisation from unwanted drone intrusions, Drone Major Group emphasises the importance of the "soft measures:" policies and procedures, legal compliance and thorough research as to the relevant suppliers in the industry.  
Though complex, Counter Drone strategy and technology, like the drone industry itself, is quickly evolving.  Choosing to wait to adopt an effective Counter Drone strategy renders your organisation vulnerable to rogue drone interference, data breach and a safety risk to both employees and clientele.  Don't get left behind – Drone Major Group is here to work with your organisation from start to finish to integrate a Counter Drone strategy that works for you.
---