Editorial Feature
---
European Drone Summit 2019
Published May 22nd 2019
Words By: Drone Major
The EUROPEAN DRONE SUMMIT is an international conference for the European drone industry to explore strategies for the efficient use of UAS. Key figures from the fields of politics, law-making, research, industry and business come together to discuss the way forward for achieving acceptance and devising solutions for the safe and effective commercial use of unmanned aircraft in Europe.
The EUROPEAN DRONE SUMMIT is the European platform for discussing the current needs of the UAS industry, both for people with an interest in the industry and for long-standing aficionados. Meetings on specialist subjects cover business models and strategies, particularly on the topics of: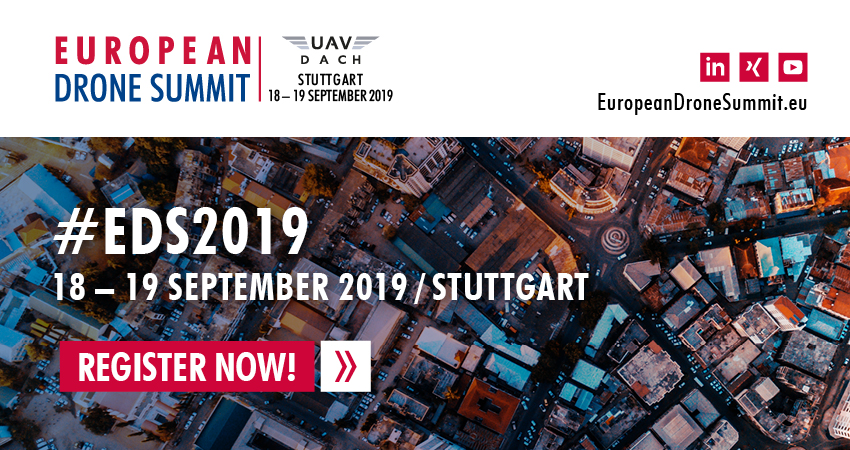 Safety and security using and against UAS
Integrating UAS into airspace as a whole
Vertical mobility using UAS in urban environments
UAS services using the example of medical provision
and open up the opportunity to connect existing concepts with the requirements of new business sectors.
The EUROPEAN DRONE SUMMIT is the place to go to assess experiences of using UAS and how these might apply to your own industry. The programme provides a space for entering into dialogue with an eminent network of drone experts.
Tickets include participation in both days of the EDS conference, plus the evening event, and entry to the INTERGEO, INTERAERIAL SOLUTIONS and SMART CITY SOLUTIONS trade fairs.
The host expects as many as 400 participants from the fields of industry, administration and authorities, along with interested operators, manufacturers and users from the UAS sector.
For companies, the EUROPEAN DRONE SUMMIT offers the perfect format for shoring up their own involvement and skills in the drone industry and in the fields of digitalisation, automation and mobility.
Book your tickets here>  https://europeandronesummit.eu/en/register
---