Editorial Feature
---
Fossils Stuff: S1 Ultra Light Racing Frame
Published June 20th 2018
Words By: Fossils Stuff
The Fossils Stuff S1 is Smoky FPV's signature frame. Smoky FPV is currently second in the British FPV Racing Association (BFPVRA) leaderboard. The S1 has been developed over many months with hundreds of hours of test flying culminating in a race winning design.
Manufactured from high-quality Mitsibushi carbon sheet and top-grade aluminium and stainless steel hardware the S1 comes in at only 68 grams in weight with the removable camera protection plate.
The design is a lower, mid and top plate system with removable arms. The removable arms allow for very quick replacement in the field. Each arm is manufactured from 4.5mm carbon and radiused all round top and bottom.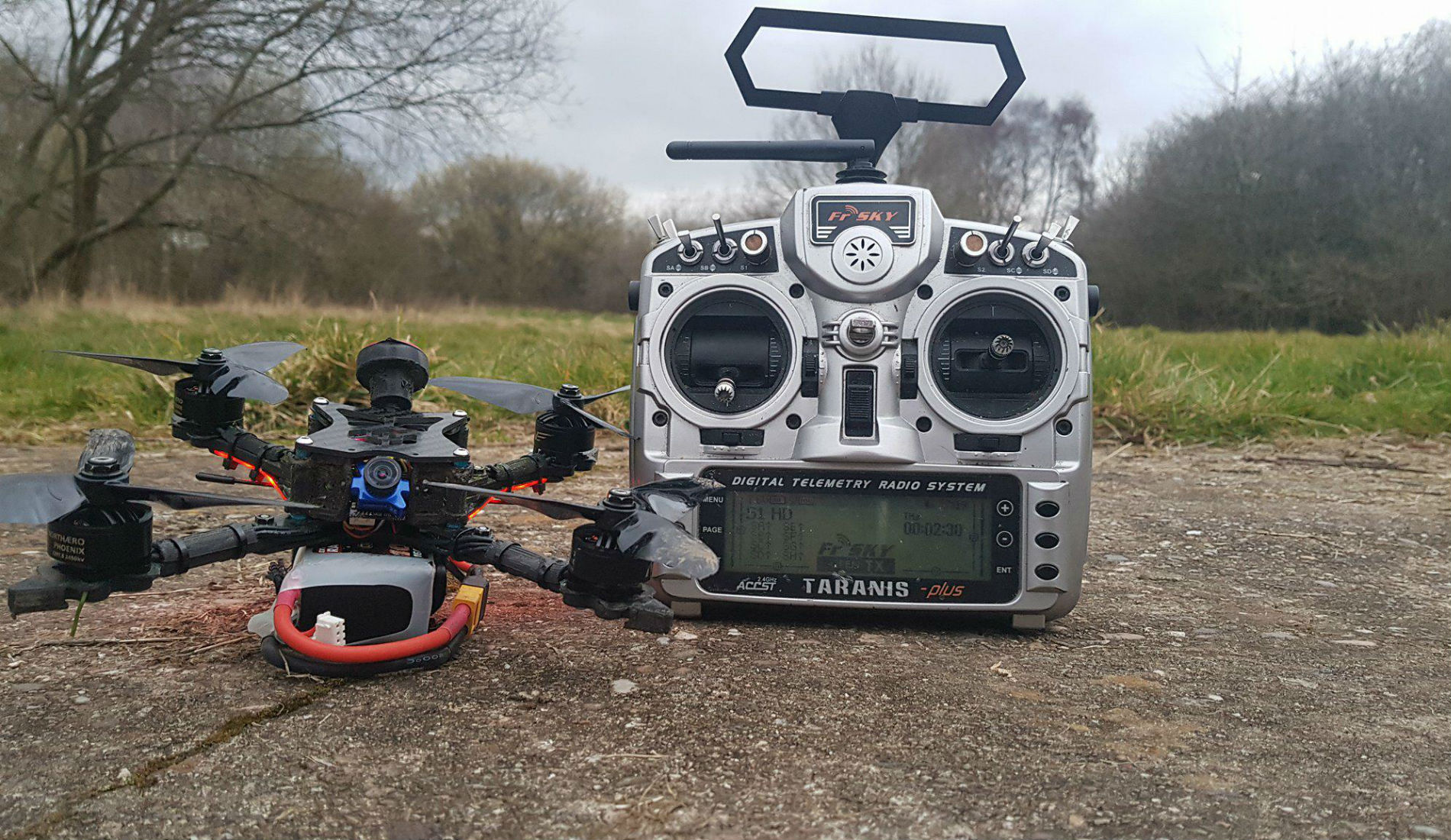 All the plates are made from 2mm thick carbon sheet for added strength. The lower plate is wide enough to accommodate the latest lipo battery configuration which seems to be going squarer rather than long and thin. The middle plate has been machined to accept both 20mm and 30.5mm flight controllers allowing for an extremely light build when using a 20mm board. The flight controller mounting holes have been offset rearwards slightly to allow the fitting of a Runcam Micro FPV camera using a 3D printed mount (available separately). Standard camera is a Runcam Mini or similar and mounting holes in the lower plate have been provided.
The top plate features the Fossils Stuff logo and mounting for most VTX antennas which are cable tied into position using the two holes either side of the antenna slot.
The frames are supplied with a comprehensive hardware kit comprising of the following:
4 x M3 orange anodised aluminium pillars 25mm long
4 x M3 x 10mm socket button head screws (Top Plate fixing)
4 x M3 x 12mm socket button head screws (Inboard Arm fixing)
4 x M3 x 16mm socket button head screws (Outboard Arm fixing)
4 x M3 nyloc nuts
2 x M2 x 8mm cap head bolt (Camera Protection Plate fixing)
2 x M2 plain nut
2 x plain washer
1 x Battery Pad
1 x S1 Sticker
1 x Fossils Stuff 20mm wide battery strap
Suggested motors are any of the current 22** series. The arms have been machined with slots so motors can be rotated in any direction if required.
Longer arms are available as an optional extra, allowing the frame to become a lightweight long range cruiser running 7" propellers.
A custom battery pad is included made from 3mm thick neoprene rubber which is self-adhesive. These pads not only protect the battery but also grip it tightly to the underside of the lower plate. A 20mm wide Fossils Stuff battery strap is also included.
The S1 is available now and is packaged in a clear sleeve with a cardboard header with Euro Slot, allowing for easy display in any shop.
---