Editorial Feature
---
How to deploy sensor arrays for drone and robot collision avoidance: Webinar
Join this free webinar Thursday, 30 September, 2021 at 3pm CEST
September 21 2021, Saint Genis-Pouilly, France  French sensor solutions technology company, Terabee, is hosting a free webinar for people who want to learn how to build their own sensor array for drone or service robot collision avoidance
Do you want to increase your knowledge and skills in collision avoidance for drones and service robots?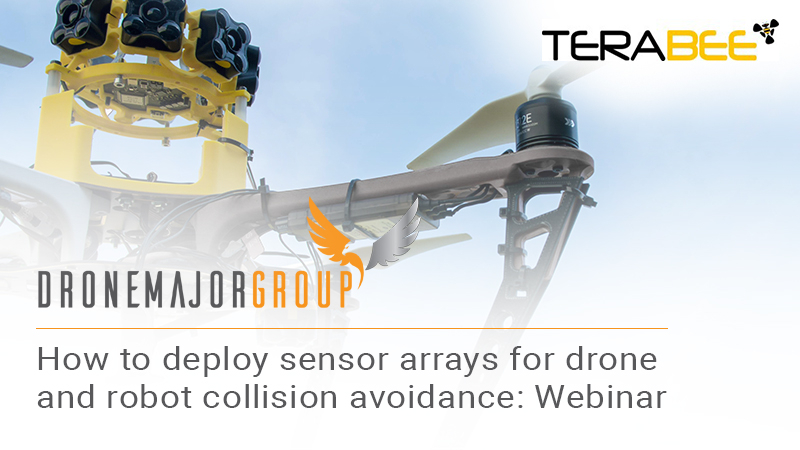 Participants can get a practical overview of how to build collision avoidance systems for drones and service robots using Terabee distance sensor arrays, in this free 30 minute webinar.
Topics that will be covered include an introduction to Time-of-Flight technology, pre-built sensor arrays for collision avoidance, sensor arrays for cliff detection, drops and steps, and how to build your own sensor array.
There will also be the opportunity to ask questions of Terabee experts.
Webinar: How to implement collision avoidance for mobile robotics and drones
Thursday, 30 September, 2021 at 3pm CEST
Registration
More webinars are coming up in October, November and December 2021. If you'd like to be informed, as details become available, sign up here. 
https://terabee.us10.list-manage.com/subscribe?u=3889ed7f46a6c86bd5a9effac&id=7f35bfbb13
See more on Terabee Sensor Modules
 
Evo ToF sensor evaluation kit - distance sensing has never been easier!
The modular, high-performance and easy-to-use Time-of-Flight sensing kit - ideal for research and development purposes.
The kit is built on our modular Evo sensor family and includes 3 different Time-of-Flight sensor modules: TeraRanger Evo 60m (long-range), TeraRanger Evo 3m (short-range) and TeraRanger Evo 64px (8x8 depth resolution for movement detection).
The modular two-part design of Evo sensors allows quick testing and prototyping with a variety of interfaces including USB, UART, and I2C. 
Just clip-on your preferred interface backboard to any Evo sensor. No additional calibration is required as the sensors stream factory calibrated distance values in millimeters, out of the box.
Evo 60m evaluation kit - long-range ToF range finder evaluation kit
Evaluate the high-performance ToF sensor as a tool for drone altimeter, robot navigation, level sensing and more! Save 10% from RRP
The kit includes the TeraRanger Evo 60m sensor - our flagship long-range Time-of-Flight range finder as well as two clip-on, interchangeable interface boards - USB Backboard and I2C/UART Backboard. 
With a 10% saving on individual product prices, the TeraRanger Evo 60m evaluation kit offers great value, making our technology even more accessible to R&D, education and developer communities.
See more: https://www.terabee.com/shop/lidar-tof-range-finders/evo-60m-evaluation-kit/
Media enquiries
For more information about this topic, please call Greg Watts at +33 (0) 6 81 28 70 24, or email [email protected] or [email protected]

About Terabee
Terabee are leaders in Time-of-Flight technology providing intelligent 3D sensing devices and solutions to enable digital transformation across Industry 4.0, smart buildings, smart agriculture and mobile robotics.
Products ranging from sensor modules, embedded software, to ready-to-deploy solutions for systems integrators, make Terabee the partner of choice for distance sensing, 3D depth sensing, low-resolution thermal imaging and radiofrequency positioning systems.
Founded in 2012, the company is constantly innovating and today employs more than 50 people from its headquarters in Pays de Gex, close to Geneva. Terabee is a CERN Technology Partner and has received funding from the European Union's Horizon 2020 research and innovation programme under grant agreement No 850014. Visit www.terabee.com for more information.
 
---