Editorial Feature
---
Robert Garbett to Speak at BAPCO-CCE Event 12-13 March 2019
Published March 7th 2019
Words By: Drone Major
Drone Major's Chief Executive, Robert Garbett, is honoured to be speaking at BAPCO-CCE's Public Safety Communications event occurring next week (12-13 March) at the Ricoh Arena in Coventry, England. While exhibitor slots are now closed, it is not too late to attend…
A critical time in drone innovation and standardisation, Garbett will be addressing two pressing topics: Perpetual Surveillance and The Future of Drones.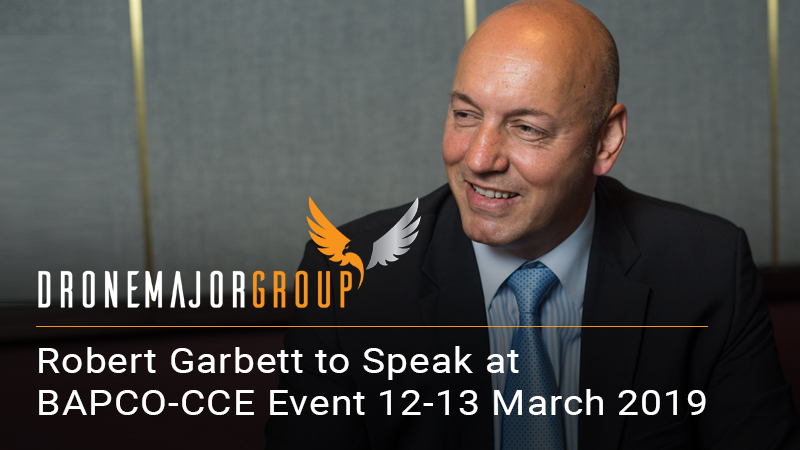 Perpetual Surveillance:
Perpetual (or persistent) surveillance drone systems are a key element in the evolution of security systems. Utilising the available technology, companies, governments or other organisations can detect, locate, characterise, and even track various subject matter with the end goal of improving current safety measures. The systems are intended to be long term, lingering idle until commanded or perpetually surveying an area – depending on the user needs. Additionally, the technology is functional across all environments (surface, underwater, air and space), allowing users to collect a full picture of data.

The Future of Drones:
The history of scientific advancement has been written by people who are always pushing toward what's 'next,'.  It is this mentality that pushed humanity from the first powered flight in 1903, to the first orbit around the moon in 1968. Pioneers, in any field, are always looking to push the envelope of what is possible, and the drone industry is no exception. While commercial applications expand at a rapid pace, some are already looking forward. Robert will offer a glimpse into what mankind may seek to achieve with drone technology and how we may get there…
Garbett's expertise and industry experience are notable and his remarks are poised to be relevant, impactful and insightful. We hope to see you there!
---