Editorial Feature
---
Thinking Aloud - Meaningful Alliances and Partnerships
Meaningful Alliances and Partnerships Leverage.
In the 21st century no business or its leaders can stay in front without leveraging the best of the best. Trying to build or even develop everything on your own is a sure signal of impending failure. It is not sustainable. A well-designed business has very few hard boundaries that create walls between the internal workforce and the wider environment. Developing the next thing, whether they be new services, producing new offerings or staying ahead of technological advances is an increasingly high risk. Creating value cannot be limited to cost as a key factor. Partnering in the right way, with those already leading in their field, is realistically the only way forward.
Engaging with the workforce to think this way – creating a culture of difference. Inspiring people to participate. Collective intelligence is an expression that resonates with most people – so building it into the way we work requires new and more transparent models. Collaboration is therefore no longer optional but the clearest route to competitive advantage.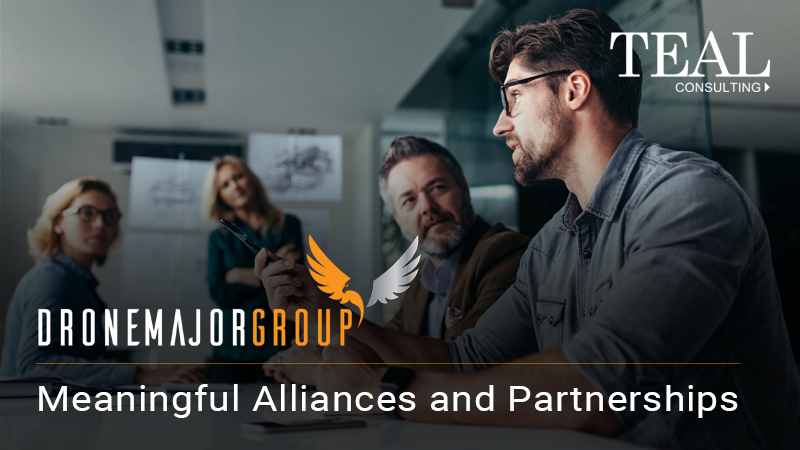 Organisations should be reviewing their collaborative strategy on a regular basis. With this mind-set collaborative approaches will cut across every function in an organisation. So the advent of a Collaborative Working standard is welcome (even if you don't really care about ISOs and certification). It provides a route map. It does not represent a template solution but provides a consistent framework which can be scaled and adapted to meet particular business needs. To maximise the benefits of a collaborative approach it is important to consider the longer term implications of our actions on value creation.
A true value collaborative partnership extends beyond the traditional organisational boundaries – the approach needs to be embedded in the vision, the decision making process and how services are delivered. Without this mind-set we are left with the poor relation of partnership – often called supplier management – which does not encourage a more open and transparent relationship.
The standard provides elements which need to be considered before entering into partnerships or alliances. For all businesses the following elements from the standard provide food for thought. Identifying and Prioritising Collaborative Business Relationships/Establish a Value Analysis Process Historically terms such as partnering or collaboration have been used too liberally and frequently when not appropriate. The spectrum of relationships, specific needs and strategic requirements will be many and varied. A clear differentiation of relationship types enables businesses to focus resources more effectively.
Adopting a collaborative approach must clearly offer greater tangible benefits than a more traditional model. It should be focused on a robust analysis of a cost-effective solution. Most organisations are very good at defining what they want from others but perhaps less aware of their own capability to meet the demands of collaboration. A collaborative relationship requires commitment on all sides. This includes the leadership, skills and motivation which will govern the behaviours and approaches. Understanding the internal enablers that build trust between the parties based on mutual benefit and equitable reward is important. It is not just about processes, procedures, systems and contracts.
Partner Selection Collaborative relationships can be utilised in many different circumstances and finding the right partner should not be left to chance. Often the selection process is by default or based on long term experience in a traditional relationship. This may not always be the best criteria. It is important to understand the differing dynamics of a collaborative approach and to assess the strengths and weaknesses. To build confidence in selecting partners the approach should define what success looks like at all stages of the relationship cycle. Value Creation Experience suggests that relationships will tend to plateau over time if they are not driven to maintain continual improvement. Relationships which are particularly focused on long term benefit must maintain a relevance to customer needs. One major value from collaborative approaches comes from the ability to share ideas and harness alternative perspectives. Exploiting value creation means challenging traditional thinking. How organisations choose to encourage innovation depends on a wide variety of factors. Establishing joint cross-functional teams to address specific challenges or ideas brings an additional benefit.
Introducing a structured approach to value creation and innovation supports organisations and teams working together and helps maintain a competitive edge. Exit Strategy An exit strategy is in fact a key aspect that should be addressed as part of the initial thinking. The strategy should focus on how the parties plan to disengage when necessary and ensure effective business continuity and customer support. A strong relationship will recognise the value of seeking to monitor the changes and ensure that the concerns and needs of each partner are duly addressed. Many people may consider that to address an exit strategy at the outset of a relationship infers an acceptance that the relationship will fail, but this is not the case.
Experience suggests that being open about all possibilities allows the partners to focus on every aspect of integration. It is important to recognise that although one particular initiative may come to its useful end due to a variety of factors, others may, and should, emerge from successful collaboration. Effective disengagement, and how this is viewed internally and by others, is crucial to the reputation of the parties. Whilst it may be appropriate to cease activity, how this is presented and interpreted will influence the way each party proactively approaches disengagement. Finally Collaborative relationships produce greater results. Having different perspectives on a situation and bringing more learning and experience to inform an outcome is more powerful than operating the same way you have always have. So leveraging the best of the best will be critical to success.
What do you need to do differently to seriously create and deliver value?
Thinking aloud is an occasional series of articles on new issues and ideas that we are reflecting on.
The idea is to share knowledge – and encourage thinking and discussion. We encourage you to respond with your feedback. 
---