Editorial Feature
---
A NATIONAL STRATEGY FOR DRONES ACROSS LAND, SEA AND AIR
Drone Delivery Group's new white paper outlines why the UK government must act now to capitalise on autonomous drone systems technology. The Drone Delivery Group (DDG) calls for improved coordination across government in order to harmonise quality and safety standards for drones operating autonomously in multiple domains.
On 18 January 2023, the DDG delivered its landmark white paper 'A National Strategy for Drones across Land, Sea and Air' to the Department for Transport (DfT) and the department for Business, Energy and Industrial Strategy (BEIS).
Eight months in the making, the paper describes a drone strategy that can meet the demands of increasing numbers of autonomous vehicle systems. This strategy will mitigate any potential risks to the country in terms of safety and infrastructure and deliver tangible environmental benefits.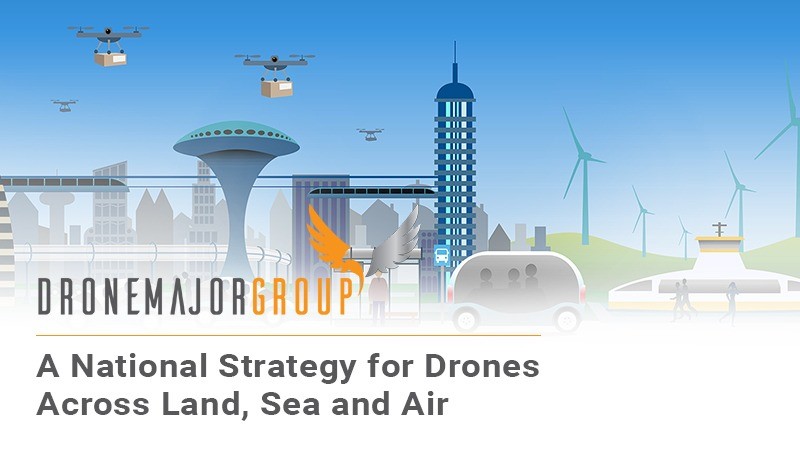 Existing transport systems are served by regulations that have been developed over hundreds of years, but rapidly evolving drone technology is outpacing the demand for new regulations. As such, the DDG contends that efforts must be made to streamline the regulatory process, especially in the area of digital harmonisation across land, sea and air.
To achieve this, the DDG proposes that any formal regulations in this area should also be underpinned by robust safety and quality standards (principles). A properly executed cross-domain strategy would enable the DfT to update these safety and quality standards without being constrained by the limitations of the legislative process.
With well-crafted cross-domain common regulation, drones can bring quantifiable environmental benefits to the UK. A 2018 study found that drones used for delivery purposes could have an environmental impact many less times than that of even a motorcycle. Other studies back up this general view that if properly utilised, drones can have a positive environmental effect.
With Britain's roads as congested as they are, even a small reduction in land traffic could provide an observable benefit to all who use them. There are three enclosures attached to this paper and these contain the extensive facts behind the opinions stated in this paper. They are aimed at drone specialists and staff officers and were removed to ease the reading task for busy generalists.
Founded in 2018, the DDG is a not for profit, impartial organization, delivering thought leadership in a dynamic emerging sector. With more than 350 members, the DDG is highly influential in ensuring that the UK government places UK technology at the forefront of this rapidly developing industry.
John Haffenden, the CEO of DDG said "Since restructuring the DDG as a commercially independent, not for profit organisation, we have focused our work on providing strategic advice to the UK Government on all-domain drone operations. Our aim is to maximise the benefit of drones to society, to build a strong drone industry and to ensure the UK captures the obvious benefits this will bring to our economy."
"This paper tackles how better to harmonise our approach to regulations and standards across land, sea, and air in preparation for the imminent arrival of digitally operated autonomous drones in all environments. Without a solid strategy, operational chaos, reduced safety and data security will be the result in what will continue to be a predominantly manned transport environment."
---