Editorial Feature
---
CampaignUP Secures Deal with Major UK Political Party
Published May 29th 2019
Words By: Drone Major
It has been an exciting week for Drone Major supplier, CampaignUP, as they finalise their recent deal with a major UK Political Party.
CampaignUP differentiates from similar marketing platforms in that they address a critical problem for many businesses: lack of engagement. Attracting and maintaining an active audience challenges even the most professional, experienced marketers. Especially in today's digital society, audience demographics evolve rapidly and, consequently, many traditional means of marketing become less effective. In a period of change and uncertainty, CampaignUP is paving the way for innovative, effective marketing. 
Proving their validity through this recent deal, CampaignUP is encouraging other businesses and organisations to embrace this new, mobile-first marketing concept. The rationale is convincing: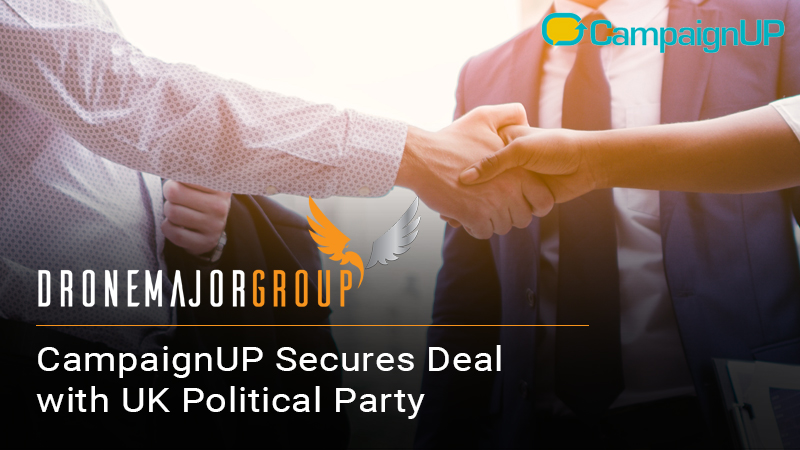 In 2019, smartphone use is near ubiquitous. A recent Deloitte survey revealed that in the UK alone, 87% of phone users own and actively use a smartphone. Though the ever-expanding applications available for download diversify the common uses of smartphones, communication has – and will continue to be in the future – a primary reason for ownership. Society, especially younger generations, value convenience in their communications. Whether that be text messages between friends or, now, businesses, the 87% is typically just a fingertip away.  
Using WhatsApp to distribute marketing campaigns adds both a layer of efficiency, as well as effectiveness, to current strategies. Unlike traditional marketing means (think email, letter, banner ads, etc.), WhatsApp messages realise a 98% open rate – a striking number, especially among the distracted, hard to reach millennial audience.
CampaignUP's platform allows your organisation to easily accumulate and manage subscribers, send tailored (or automatic) responses complete with media files, all whilst creating and maintaining a mobile-first brand personality. As a first mover in this industry, CampaignUP's contract with the Conservatives is just one of the many exciting deals they secured in recent months.
---