Editorial Feature
---
First Class Delivery
In an exclusive interview with one of the Drone Major Group's newest members, we speak with Ryan Walsh, CEO and co-founder of Valqari, about drone delivery systems and how he's looking to provide the ultimate mailbox…
When you talk about drone deliveries, most people will think of the likes of Google and Amazon, simply because those are some very big names that typically generate good headlines and social media friendly PR. However, there are many others working on a variety of solutions, as well as pushing all aspects of the technology and infrastructure involved.  One such company is Chicago-based Valqari and it is looking to play a prominent role when it comes to the 'last mile' of the drone delivery process.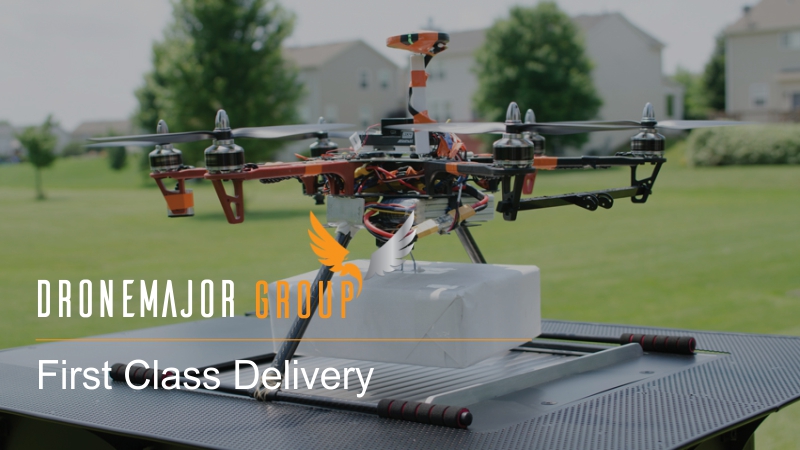 Although officially founded in 2017, the company can be dated back to 2013 when CEO Ryan Walsh and his co-founder Alexander Falesch had their lightbulb moment. Having served in the US Army, Ryan had experience working with cutting-edge drone technology, but he says it was an early Amazon 'sizzle reel' that was to prove their spark of imagination. 
"In that sizzle reel it really showed that there was a lot of thought being put into the drone itself and how the drone would be a great and very sexy solution," he says, "but very little was done to really think about how the drone would interact with people on a day-to-day basis as far as infrastructure, charging, data applications and things of that nature. Alex and I really saw that as being the missing link in what was being proposed."
While the likes of Amazon were working on their own proprietary systems, Ryan and Alex wanted to create something more universal – rather than being restricted to a single all-in-one solution. After all, at this moment there's no telling what system, or systems will be widely adopted in the future and so they designed a smart mailbox – or letterbox as Ryan kindly translates for our UK-based members – that could work with a variety of drone delivery solutions.
"When it reaches its full market penetration and saturation, the consumer is not going to want one box for Tesco, or one box for Amazon, or a box for the Royal Mail," Ryan tells us. "You're just going to want one box that is universal and agnostic and can take all deliveries." We offer the mobile phone as an analogy, with its varying brands, models and platforms: "That's exactly the model that we would look to emulate, where you have universal applications and where you have your specific phone that doesn't have anything preventing it from calling my specific phone."
The Smart Solution
If the drone delivery market is really going to be more of a coalition of compatible technologies, then there was no need for Valqari to spend valuable time and resources building drones or UTMs (or championing the associated regulations and infrastructure) and could instead focus itself purely on making its own product as good as it could be. "We really wanted to focus on that piece and let the people that are doing great developments in drones, in communications and all the various components that are going to come into this ecosystem, develop a piece of it and not try to be this one-shop-fits-all for everybody."
The end result – or at least the product which is now very much a work-in-progress – is called the Remote Communicating Vault Receiver-Personal Automated Delivery, perhaps better known as the RCVR-PAD. Working much like a smart mailbox, this standalone device can be placed outside any home or business, or even mounted by a window or on a balcony where space is limited or you're not on the ground floor.
It has a sliding horizontal door at the top, which is digitally activated when the drone is within distance, and locks itself once the delivery is made. "It would provide a safe, secure and universal location that is standardised for drones," Ryan explains. "It reduces risk, it reduces liability and it provides a communication point, as opposed to somebody's lawn. " 
In practical terms, this means that a third-party, be it Amazon, DHL or someone else, would be conducting deliveries in the area. Once the drone gets within a specified range (Ryan suggests "approximately 100 feet") it can send a signal to the RCVR-PAD which can then read and authenticate the delivery and confirm that it's the right drone delivering to the right place. "So there's no spoofing and the drone also knows that it's not delivering to the wrong box – which in a building with multiple tenants could be a serious issue. So we want to make sure there's a full authentication process, that there's a formal handshake involved."
Upon landing, the drone drops the package into the now-opened door where the package can be lowered safely inside, with a notification message sent via the cloud to both the recipient and the deliverer to confirm its arrival – with Ryan telling us that streamlining the user interface for the app is one of the things the Valqari team is currently hard at work on. 
A Two-Way Street
Indeed, having that two-way approval process could prove a key component of the Valqari system and others like it. The RCVR-PAD could just as easily be used to get an item picked up from your home or office, "and if it's window-mounted or balcony-mounted you would never need to leave the comfort of your home." 
Perhaps best of all is that communication between the drone and the mailbox also serves as a more general authentication process. Ryan offers an example of delivering medicines to the elderly, with the system providing a "chain of custody" that would otherwise prevent a drone delivery from just dropping pharmaceuticals on your front lawn. He also talks about how restaurants could manage frequent deliveries and reduce costs in areas such as storage and refrigeration – and with the RCVR-PAD ultimately being scalable in terms of size and compatibility there's no limit to the ways this technology could be adopted or adapted. 
Ryan explains how the team is already working on a solar-powered solution. He references the great work being done by UNICEF to test drone deliveries in places such as Vanuatu and Kazakhstan and there's no reason why Valqari's tech couldn't be used in similar places. "Rural is going to be one of the first markets we're looking to explore," he says. "It's very easy, especially with a window-mounted solution, to run a wire to a connected grid and power it that way. But we see a lot of solutions, especially for villages and rural populations to gain a foothold with a solar capability and really build some of that ambient power back into integrating those areas into the smart communities."
Beyond that, Ryan says such a system could even be used as a key tool in the wider Internet of Things (IoT). "We see the ability to collect weather data, pollution data, traffic data and all kinds of pieces where, when you have a saturated neighbourhood or city block with multiples of these units, you can create micro-maps of all these various components. It will really allow us a greater understanding of our environment and how we can better suit the people living and working within that, so we see ourselves as being a very critical component of the infrastructure of smart cities of the future."
The Future is Near
As for a time frame for when Valqari's system, and possibly commercial drone deliveries as a whole, will be ready to 'take off' Ryan is looking to 2020 as the target, with further test projects taking place later this year. "With the anticipation of this regulation being opened and the commercial adoption, we want to make sure there is a demand and economic indicators to pursue this and not really pursue it too early ahead of where the industry trends are pointing. So we're really looking at the beginning of 2020 to have a really solid product available."
As for the market as a whole, Ryan echoes the point about it not being about one single solution, and rather a "coalition of all of these great technologies" as being the spark that will drive the industry forwards. When pushed for a timeline he explains how the first phase of development was about making sure the drones themselves are safe – and most of that has been cleared over the past year or so. 
The second phase is about unmanned traffic management systems (UTMs) and the wider integration with manned airspace and so on, which will be a major area of development through the rest of 2019. The third and final phase will be about nailing down the infrastructure and things like boosting flight times, charging stations and implementing tech such as the RCVR-PAD… "Then it's just going to be about increasing proliferation from there."
Things have certainly come a long way since that first meeting with Alex some six years ago. "When I first started in 2013 people thought this was really far out, decades you know," Ryan says. "I don't think we were anticipating all the great leaps people would make on the technological side of things with so many great innovations. Some of the younger generation saw it early on but now I'm going into meetings, even with someone twice my age, and they're saying 'oh I've got three drones at home and I can't wait until they start delivering'."
And with those drone delivery systems now within touching distance of becoming a reality, Ryan and the team remain as committed as ever. "I really just want to focus on getting this into the right hands and seeing it through and helping as many people as possible. We want to see Valqari really be the name in smart receptacles moving forward, especially for drone deliveries, and we see a really bright future in being able to replace most mailboxes – and letterboxes – in the world." And we wouldn't bet against Valqari being able to deliver on those dreams!
To find out more about Valqari and the RCVR-PAD, you can find the company's profile page at www.dronemajor.net/brands/valqari or you can contact them directly via www.valqari.com
Major Support
As a new member of the Drone Major Group family, we asked Ryan what benefits and expectations he had about joining the network. Unsurprisingly he says it's about building new coalitions within the greater ecosystem: "What we really see with being involved with the Drone Major Group, and the partners we hope to gain through it, is to be a part of that coalition, to be a part of that ecosystem and find other industry players and people who are passionate about getting this technology out there.
"We're always looking for drone partners to integrate with and test with, such as new airframes and communication methods. We're looking for test markets and pilot projects to be involved in, and if we can engage with more people that would be able to integrate with our technology, or test our technology, or provide sub-components for our technology, that would be the most immediately beneficial."
So if you're operating in similar fields and think you can either make use of a system such as Valqari's, or perhaps you're working on a technology that could make it even better, then you might want to drop Ryan and the team a line!
Leap of Faith
Although most people within the UAV industry are keen to embrace drones and the surrounding commercial applications, there is still a fear factor among the public that needs to be addressed. We could hark back to the days when the first car owners were forced to make people walk in front waving flags to warn people of their terrifying presence, but Ryan has his own vehicular-based analogy.
"Back in the 1800s they used to say that if a human got into a train, that if they're going that fast it will take the air right out of your lungs and you would suffocate. But once people realised that wasn't the case and that they could cross the US in days instead of weeks, that was what everybody started doing - and I think there's going to be a very similar adoption with drones. I mean we already have helicopters and aeroplanes in the air right now so I don't think it's too much of a leap to put some autonomy into this."
"Very little was done to really think about how the drone would interact with people on a day-to-day basis. Alex and I really saw that as being the missing link in what was being proposed"
"The consumer is not going to want one box for Tesco, one box for Amazon, or a box for the Royal Mail. You're just going to want one box that is universal and agnostic and can take all deliveries"
"It will really allow us a greater understanding of our environment and we see ourselves as being a very critical component of the infrastructure of smart cities of the future"
"When I first started in 2013 people thought this was really far out, decades you know. I don't think we were anticipating all the great leaps people would make on the technological side of things with so many great innovations"
---