Editorial Feature
---
InsurTech SkyWatch.AI and Starr Insurance Companies launch a Usage-Based Drone Insurance Product in Canada
SkyWatch.AI and Starr offer on-demand hourly, monthly and annual drone insurance solutions based on a proprietary safety platform
SkyWatch.AI, the world's first on-demand, telematics-based insurance platform for commercial drone pilots, launched its drone insurance product in Ontario, Canada. SkyWatch.AI's dedicated drone insurance allows professional drone pilots to easily set and manage their coverage through their mobile or desktop devices. The policies are underwritten by a member of Starr Insurance Companies, the leading aviation insurance company in North America, which has insurance carriers rated "A" (excellent) by AM. Best.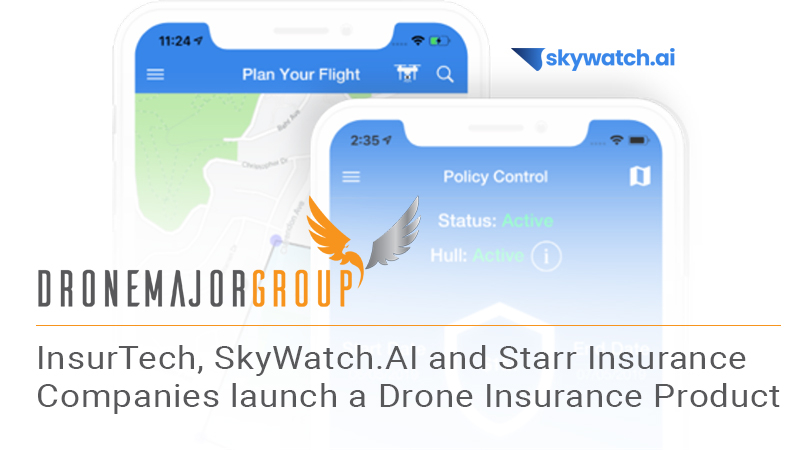 Through Skywatch.AI, commercial and recreational drone (RPAS) pilots rapidly receive flexible liability insurance by the hour, month or year. The telemetry-based risk analysis platform provides a best-in-class risk map to help pilots plan their flights, get real-time quotes, proactively avoid potential hazards and analyze their performance.
SkyWatch.AI will allow eligible drone pilots to reduce their insurance premiums as they fly safely over time. Their telemetry-based Safety Score differentiates SkyWatch.AI from any other drone insurance products and can be used to set an industry benchmark for operators to improve their score.
"The drone industry is rapidly growing and 2020 is set to be a pivotal year for drone pilots on all levels. We want to provide drone pilots innovative technology and insurance with extremely flexible coverage plans." said Tomer Kashi, CEO and co-founder of SkyWatch.AI. "We're excited to have SkyWatch.AI expand into Canada, and after our initial run in the province of Ontario, we plan to expand to more regions and provide more Canadian drone pilots with our advanced insurance solutions."
"After setting a new standard for drone insurance in the United States in terms of coverage, flexibility, automation and ease of use, we are proud to expand our relationship with SkyWatch.AI to Canada," said Paul O'Ryan, Canadian territory manager, general aviation at Starr. "The need for usage based insurance is rapidly growing, and we look forward to meeting the demands of professional drone operators in Canada as well."
SkyWatch.AI's drone insurance is now available on the SkyWatch website, and on Google Play and Apple App store. 
About Starr Insurance Companies
Starr Insurance Companies (or Starr) is a marketing name for the operating insurance and travel assistance companies and subsidiaries of Starr International Company, Inc. and for the investment business of C. V. Starr & Co., Inc. and its subsidiaries. Starr is a leading insurance and investment organization with a presence on six continents; through its operating insurance companies, Starr provides property, casualty, and accident and health insurance products as well as a range of specialty coverages including aviation, marine, energy and excess casualty insurance. Starr's insurance company subsidiaries domiciled in the U.S., Bermuda, China, Hong Kong, Singapore, U.K. and Malta each have an A.M. Best rating of "A" (Excellent). Starr's Lloyd's syndicate has a Standard & Poor's rating of "A+" (Strong).
About SkyWatch.AI
SkyWatch.AI is the world's first on-demand, telematics-based insurance platform for commercial drones. The SkyWatch.AI platform leverages the power of machine learning to assess and mitigate risks and provide on-demand insurance for drone pilots across the US, Canada, UK and Israel.
---