Editorial Feature
---
INVOLI and AirMarket announce strategic partnership upon being selected as a team for Canada's official RTM Service Trials
Lausanne, Switzerland:  
As part of one of the two teams selected to perform Canada's RTM* (RPAS Traffic Management) Trials,  INVOLI, leading surveillance solutions provider, and team-leader AirMarket, regulatory technology solution provider for unmanned aviation, capitalize on such success and announce strategic partnership to bring the trials collaboration to the market. The trials aim at generating data and experience that would be used by Transport Canada to develop regulations for BVLOS (Beyond Visual Line of Sight) drone operations and the delivery of commercial cellular-enabled UTM* services. The team, led by AirMarket and including partners such as world-renowned telecommunication company TELUS, was selected by Canada's RTM Action Team cochaired by Transport Canada and NAV CANADA, to execute official service trials.  
Starting in a 425 km corridor in Northern Alberta, the partners will be conducting Cellular-enabled UTM and Sensing Data Services in conjunction with Petroleum Technology Alliance of Canada (PTAC) and one of North America's leading energy infrastructure companies.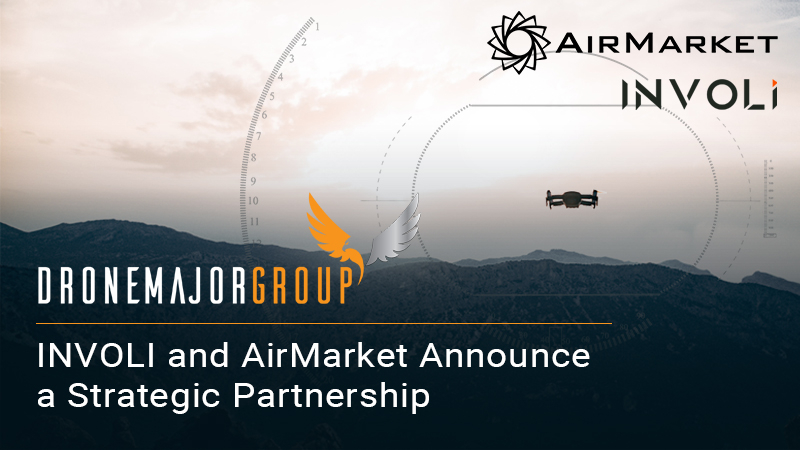 INVOLI contributes to the trials with its unique surveillance system, by deploying a network of receivers onto existing cellular TELUS infrastructure, capitalising on its experience in Switzerland with national telecommunication company. The network will gather data on cooperative air traffic enabling the team to benefit from comprehensive air traffic awareness (including at low altitude) and in general from an increased level of safety of operations.  
It is in this context that the first bricks of the partnership between INVOLI and AirMarket were laid, the two companies seizing the opportunity given by the success and technical integration within the trials to further their collaboration to the market. 
*UTM is Unmanned Traffic Management. The Government of Canada uses the term RTM, or RPAS Traffic Management.  RPAS stands for Remotely Piloted Aerial System. 
"We are excited for this strategic partnership, which will allow both our companies to offer integrated services to the drone market, in Canada and beyond" stated Lindsay Mohr, CEO of AirMarket. He added  that "INVOLI's technology is rather unique, as is its team, and we look forward to operationalizing this airspace surveillance framework in rural environment to start with". 
One of the main goals of the partnership is to offer common, scalable solutions to the UAV industry, by building upon the experience of both INVOLI and AirMarket to generate innovative technologies,  particularly within the telecommunications' framework, and by bringing the lessons learnt during the trials to the entire industry. 
INVOLI Chief Business Development Officer, Mélanie Guittet, noted: "We are very excited to announce  this partnership, after many months of working behind the scenes to make it all happen, we can leverage  all this work and combine our efforts to bring to the industry a common, enhanced solution for more and  more complex drone operations." 
*** 
INVOLI is a multi-award-winning Swiss company with a mission to safely and efficiently open the sky to  all flying objects. INVOLI presents a paradigm shift in providing the currently missing air traffic data to  drones: only by knowing where other aircraft may come from can one avoid it. Thus "giving eyes to drones" will facilitate their safe integration into an increasingly busy sky, enabling drones to avoid any other flying objects when on a collision course (airplanes, helicopters, drones, parachutists etc.). INVOLI's mixed hardware-software system integrates advanced surveillance data into third part software like UTM  systems or drone flight management software, to unlock the full potential of drones across many sectors such as infrastructure, agriculture, surveying, aerial photography or urban air mobility. INVOLI is part of the Swiss U-Space Implementation, nation-wide collaborative effort for safely integrating drones into the airspace, led by the Swiss Civil Aviation Authority and Swiss Air Navigation Service Provider skyguide,  alongside a growing group of industry stakeholders. To learn more about INVOLI, visit: www.involi.com. 
AirMarket is a technology stack company focused on the delivery of Unmanned Traffic Management  (UTM) services for commercial drones. AirMarket has the unique skills, technology, and experience for operationalizing UTM services and Beyond Visual Line of Sight flight operations using cellular infrastructure.  
TELUS is a dynamic, world-leading communications and information technology company with $14.7  billion in annual revenue and 15.2 million customer connections spanning wireless, data, IP, voice,  television, entertainment, video and security. We leverage our globally leading technology to enable remarkable human outcomes. Our long-standing commitment to putting our customers first fuels every  aspect of our business, making  
PTAC is a Canadian hydrocarbon industry association that serves as a non-profit facilitator of collaborative R&D and technology development and operates in partnership with all industry stakeholders. 
Members of the team include AirMarket, TELUS, ASTRA UTM, ClearSky Connect, INVOLI, Omnispace, and SAIT  from academia domain.
*UTM is Unmanned Traffic Management. The Government of Canada uses the term RTM, or RPAS Traffic Management.  RPAS stands for Remotely Piloted Aerial System. 
---