Editorial Feature
---
OTTAWA INTERNATIONAL AIRPORT, INDRO, PROVIDE DRONE DETECTION DURING BIDEN VISIT
A drone detection system described as "probably the best at any airport in the country" played a role in ensuring the safety of Air Force One during Joe Biden's first visit as US President to Canada.
InDro Robotics is one of the key technology partners, supplying drone detection hardware and software for the Ottawa International Airport (YOW) Drone Detection Pilot Project. It detects drone flights both near YOW and much further afield.
In advance of President Biden's visit, The US Secret Service, as well as an advance team from Air Force One, visited YOW as part of advance preparations.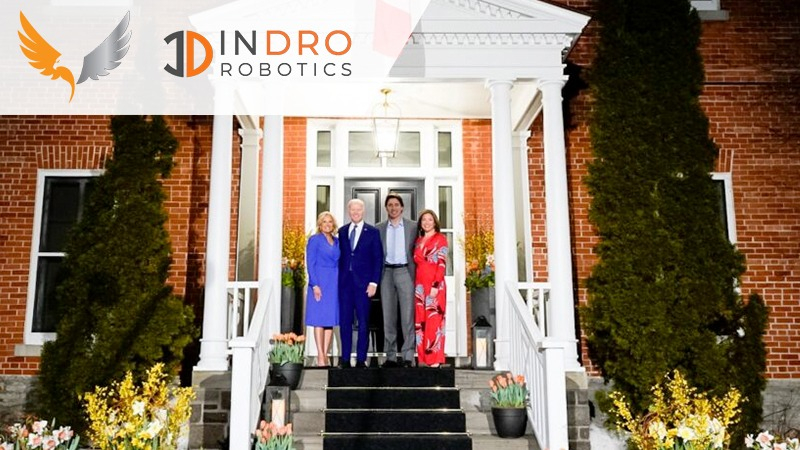 The teams wanted to be briefed on airport security, including security measures for the skies and the airport grounds. That included learning about the capabilities of YOW's Drone Detection Pilot Project – which has been accurately detecting drones at the airport and beyond for years. The program has gained significant media attention – including a cover story for WINGS magazine in 2022:
When the Secret Service and those involved with Air Force One visited YOW on an advance reconnaissance trip, one of the first questions asked was about drones.
"They asked do we have a drone detection capability – and we were quite proud to tell them that we have probably the best at any airport in the country," says Michael Beaudette, VP of Security, Emergency Management and Customer Transportation at YOW.
"It provides us with situational awareness not only of the immediate area, but throughout the National Capital Region up to almost 40 kilometres."
Certain areas of Ottawa's downtown core are designated restricted airspace because of the House of Commons, Embassies and other sensitive locations.
"During his (Biden's) visit we paid particular attention to anything flying near the Ottawa airport or downtown," says Beaudette. "Law enforcement are aware of the capabilities we have. It's a good partnership and we were happy to be able to give something back to the police and intelligence services."
THE INDRO CONNECTION
InDro provides core technology for the drone detection system. Other technology partners include Accipiter Radar, Aerial Armor and Skycope – a Canadian firm whose tech includes a database of unique RF signatures emitted by multiple brands of drones. NAV Canada is part of the project, and Transport Canada is kept in the loop on the data generated by the operation.
The effectiveness of the system was proven during the massive convoy protest in downtown Ottawa early in 2022. It detected multiple flights of drones in restricted airspace where UAVs are not permitted to fly. Those detections were covered by the Ottawa Citizen.
Below: Some of the data captured during the 2022 convoy protest in Ottawa. A wealth of data on illegal drone flights was captured:
ONGOING DETECTION
The system runs 24/7, and is capable of triggering an alert whenever a drone intrusion is detected. In mid-March, 2023, a week prior to the US President's visit, the system indicated an attempted drone intrusion on airport property.
"The alarms went off and they were tracking it – but because of the geofence around the airport, the pilot couldn't get control of the drone and put it back down again and departed airport property," says Beaudette.
"That one's in our investigations right now. Anything that happens a week out from the visit we look at it very closely. Is it someone doing a rehearsal to detect weak points? Is it a plane enthusiast having a look? Someone who bought a new drone at Costco and decided to try it out? While it's a little more challenging because the individual left, we did get a license plate and we're now just connecting the dots."
A SIGNIFICANT INTRUSION
That's not the only recent intrusion. In December of 2022, there was a much more serious incident.
A pilot popped up a drone directly in the vicinity of YOW runways, flying within a couple of hundred feet of where planes were landing. It was also a larger drone, which would have almost certainly caused damage were there a collision with crewed aircraft.
The system was capable of not only detecting the drone, but pinpointing the location of the pilot. Law enforcement was immediately dispatched, and the pilot was caught in the act.
Wary of recent global incidents, authorities at YOW kept a very close watch during the US Presidential visit:
"We've seen a lot of incidents where drones can pose a significant threat, and certainly the war in Ukraine has advanced the offensive nature of drone use considerably," says Beaudette. "There's also recent footage of drone infiltration into Russian military installations where they were able to land a drone on top of an aircraft undetected. So you really have to have the capability to detect and respond to those threats."
While the system does not have mitigation capabilities at this point (jamming RF frequencies is very complex under Canadian regulations except in extraordinary circumstances), the system is highly capable of real-time drone detection and identification, as well as pinpointing the position of the operator.
Below: Michael Beaudette, VP of Security, Emergency Management and Customer Transportation at the Ottawa International Airport, during an interview with Scott Simmie
EYES ON THE SKY
The system did detect some drone activity in the National Capital Region during President Biden's visit, but nothing that was deemed to pose a threat.
Below: President Biden meets with Canadian Prime Minister Justin Trudeau March 23, 2023. Image via Prime Minister Trudeau's Twitter account:
MISSION ACCOMPLISHED
President Biden, along with his aides and a media contingent, departed YOW the evening of March 24.
No drone flights were detected at the Ottawa International Airport during the visit.
"There's been nothing that looks like it's targeting the airport or wanting to get a look at Air Force One," said Beaudette at the close of the Presidential trip.
Below: File photo of US President Joe Biden boarding Air Force One.
INDRO'S TAKE
InDro was, obviously, pleased there were no drone incursions at YOW during the visit by the US President. But it's nice to know there was a system in place that could have detected any drone flights during this important visit.
"The Drone Detection Pilot Project has proven its worth since its inception," says InDro Robotics CEO Philip Reece. "Getting no detections and being assured there's no potential threat is just as valuable as identifying incursions – especially during a high-security event such as this.
"We're proud of this ongoing project and our partnership with YOW, NAV Canada, and our technology partners Accipiter, Aerial Armor and Skycope. We believe this has proven to be an effective model, and one that could be deployed with confidence at other major airports or sensitive facilities."
Reports are generated on a monthly basis by the YOW drone detection system; we'll be sure to update you when news warrants. And speaking of that, we issued a news release on this as well.
---