Editorial Feature
---
Percepto at AUTOMA 2019 to Show How Autonomous Drones Improve Inspection, Operation Security and Safety at Oil & Gas Refineries
Percepto, the global market leader for autonomous industrial drone solutions, today announced its participation in AUTOMA 2019 – The Oil & Gas Automation and Digitization Congress. The company will share with key players from the upstream, midstream and downstream segments, real cases of how its artificial intelligence-powered drone-in-a-box (DIB) solution is able to automate inspection, operations, security and safety for organisations operating oil and gas refineries.
The oil and gas sector has been one of the earliest to recognize the potential of autonomous drones and earlier this year the American Petroleum Institute published its Guide to Developing an Unmanned Aircraft Systems Program in which it suggests 'These systems have the potential to significantly reduce safety risks to personnel, cut operational costs, and increase efficiencies across a variety of tasks.'
These benefits mirror the experience of Percepto's Chief Commercial Officer, Ariel Avitan, who explains: "Our DIB solution is in use by refineries and energy sites around the world and we are seeing benefits across the board. At one site our drones fly as many as 15 multi-missions per day, all without the need for any human involvement." Ariel adds: "A drone can take off and conduct a detailed inspection of a stack or section of pipeline, before returning to its base station to recharge and then flying a perimeter surveillance patrol. What's more, in an emergency situation a drone can be rapidly dirverted from its current mission and dispatched to the scene."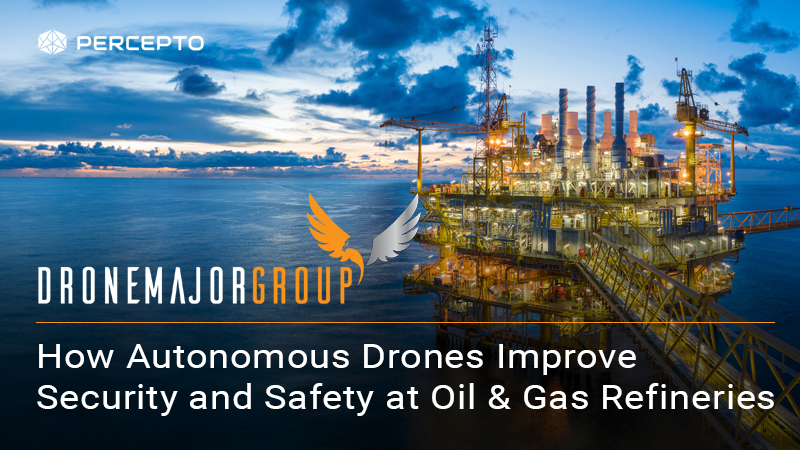 The use of Percepto's DIB solution at oil and gas refineries includes:
Automating routine inspections
With on-board high-definition and thermal cameras, a Percepto drone is able to detect crucial maintenance needs before they become costly repair emergencies. For example, temperature variations that could lead to overheating, fires and or anomalies in sensitive locations that could be indicative of gas leaks and oil spills. The drone can also assist in making planned maintenance shutdowns more efficient by providing data that enables issues to be prioritized, as well as monitoring the works in progress to ensure minimal downtime.
On-site safety
Should an incident occur, refinery operators no longer require the incident response team to place themselves in harm's way by being the first on the scene. Percepto drones can be rapidly deployed to gather information and provide the team with information that will help them to respond effectively and safely.
Detecting and tracking unauthorized personnel and intruders
Drones flying pre-defined patrol routes and reporting back in real-time can achieve maximum intruder deterrence at minimal cost and decrease the need for supervision within restricted and dangerous areas. Percepto drones automatically detect intruders, alert security teams, provide visual updates and track fleeing intruders until they are apprehended.
AUTOMA 2019 takes place 14th – 15th October 2019 in Zurich, Switzerland. For more information about the congress visit: https://automacongress.com
AUTOMA 2019 takes place 14th – 15th October 2019 in Zurich, Switzerland. For more information about the congress visit: https://automacongress.com
About Percepto
About Percepto
Founded in 2014, Percepto is the market leader of on-site autonomous drone solutions for critical infrastructures and industrial sites. Operating with no need for human intervention, Percepto's autonomous Sparrow drones perform multi missions, around the clock. The solution is ideally suited to any large-scale enterprises looking to improve security, increase productivity and reduce safety risks and operational costs. Organizations using the Percepto solution are better aware of events taking place, allowing them to be proactive and more efficient in addressing risks and operational needs. The Percepto Solution is currently in use around the world including Enel in Europe, as well as a number of Fortune 500 organizations. The company is the recipient of the Frost & Sullivan Global Enabling Technology Leadership Award.
---