Editorial Feature
---
5 steps to mastering your commercial drone operations
Electric Transmission & Distribution
Everyone with a stake in the Electric Transmission & Distribution industry,
are aware of the rapidly growing adoption of commercial drones. However,
successfully integrating drones into your operations can be a long process of
trial and error if you do not have the necessary knowledge beforehand.
This article comprises the 5 most important points to consider,
in order to maximize value gained from drone operations.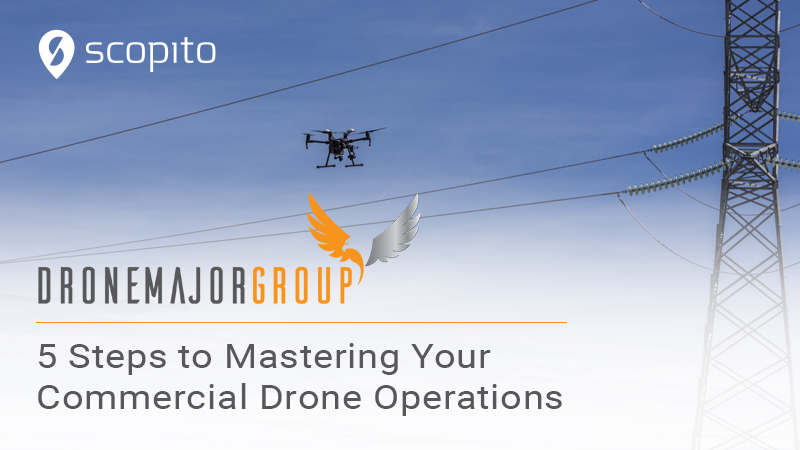 1. Consider the benefits
Using drones for inspections provides a sea of benefits. Identifying and understanding the ones essential to your business, will help you gain the most value from your investment.
Reduced inspections times

"Every time we fly, we're literally saving 2-3 days of work. Without the drone, you'd have to obtain approval before even sending someone up in the truck, a process that could take days."

– Stephen Dorsett, Indianapolis Power & Light
Less hazardous manhours & reduced labor costs
Without drones inspections are usually completed manually, and involve great risk to the people conducting them from the ground.
Drones can help avoid risks related to traversing across private property, accessing poorly maintained or dangerous areas, and dealing with unknown conditions following a storm.

They also offer the added benefit of fast response after natural disasters, as drones have easy access to areas, that might be inaccessible to people.
Higher quality data
Ground-based data collection typically lacks details compared to that captured by a drone.
Drones can easily inspect 5-6 miles of distribution poles per day, and capture high resolution images from every angle.
The more detailed and accurate data delivered by a drone inspection, enables companies to proactively identify more defects, which, if properly managed, leads to fewer power outages and reduced repair costs.
2. Is it worth the investment?
Simply put: do the benefits gained from drone operations outweigh the costs?

Obviously, there are benefits, which are not easily converted into numbers. However considering the financial aspect alone, will more often than not show a quick return on investment.

"The cost of equipment, training, software, and support for an internal drone program pays for itself 5x over with just 50 miles of utility lines inspected plus 1 substation inspection."

– Measure
3. Who do we need in our team?
Successfully incorporating drones into your operations, requires assigning the right people to the right roles. The size of your drone program, determines how big the team overseeing operations needs to be, but the responsibilities listed below, are essential to any operation.

Drone Program Manager
Building an efficient team, usually starts with appointing one or more Drone Program Managers.

He or she should be working from a central location, managing operations and ensuring that all the functions of the drone program are running smoothly, that safety measures are taken, and that regulations are met.

The Drone Program Manager will also manage the remaining in-house team, as well as any external partnerships.

For bigger operations, you will to assign managers for each of the above mentioned areas of responsibility.
Pilots
Pilots are an obvious necessity, and great pilots will give you the greatest advantages.

The FAA requires any sUAV operator to have a Part 107 certification before flying for any commercial purpose, and these standards have to be met.

However, much more can be done to properly train your pilots – read about the three-part training program that Measure utilizes here.
Data Managers
Drones capture larger quantities of data, compared to manual inspections. This data needs to be managed effectively, for you as a company to succeed.

A good place to start, is by establishing a proper data architecture and infrastructure. This should be the focus point for your data manager(s).
4. How do we manage our data?
Properly managing your data, requires the correct software.
In order to find that, there are a few essential questions which needs to be answered:
What decisions will the end user be making based on this data?
What types of data does the end user need to make those decisions?
Do you have existing data that needs to be accessible?
Do you need to integrate your data with any other software?
Captured data needs to be transferred into your program of choice, where it can be prepared, processed and analyzed.
Measure typically brings processed data into programs like Pix4D, ArcGIS or Scopito to perform analysis and share the final data with end users.
For energy inspections, they use ArcGIS or Scopito to produce an interactive webmap which can then be annotated.
5. What hardware & software do we need?
Drones and sensors
When choosing the right equipment for a job, you need to consider the type of operations, data requirements, security requirements and costs.

Generally, for operations that require ease-of- use, maneuverability, and data collection in a relatively localized area, a multi-rotor drone is almost universally the right option.

In the multi-rotor drone marketplace, DJI dominates with over 70% market share. DJI products offer quality and reliability at an affordable price, and they cover a wide range of applications and levels of sophistication.

Once you have found your drones, it's time to look at software – a process that can be quite complex and time-consuming.
However, it is a essential part of effectively managing data. You should put the required time into this process at the beginning, or you will constantly be playing catch-up.

As a rule, you should look for a single software, which covers as many functions as possible.

Here are the types of software you need: 

Program management software
This will help with work ordering, resource management, flight planning and tracking, program reporting, compliance, and data management.
It should provide a complete overview of the drone program.

Flight applications
A flight application is used to control the drone during flight.
A flight application designed specifically for commercial use, is typically the best choice.

Looking for an application which integrates with your program management software, offers additional benefits.
Drone data software
Drone data is often uploaded into various software platforms for processing, analysis, and visualization.

Some platforms also offer to manage your data processing and analysis, which can be an advantage, if you choose to outsource this function.

Always keep in mind, that the stakeholders of your program, are the ones who needs to access your data, and it should be easy for them to work with.

For T&D work, Measure most commonly uses Scopito and ArcGIS.
---