Editorial Feature
---
Drone Cage is flying high
It was while working as a drone pilot for a company providing inspections in difficult to reach places that James Dyke realised there was a massive gap in the market. And that with the critical knowledge and experience he possessed as a pilot, an engineer and using the latest 3D printing technology, he could create a business that would potentially save huge amounts of money for companies around the world.
Just a few years on he is supplying Drone Cages to the armed forces, law enforcement agencies, search and rescue, as well as the professional UAV community, globally.
The drone James piloted for the survey company had a protective barrier, so should the drone have a bump, the barrier should protect it – potentially saving the owner the cost of a new UAV.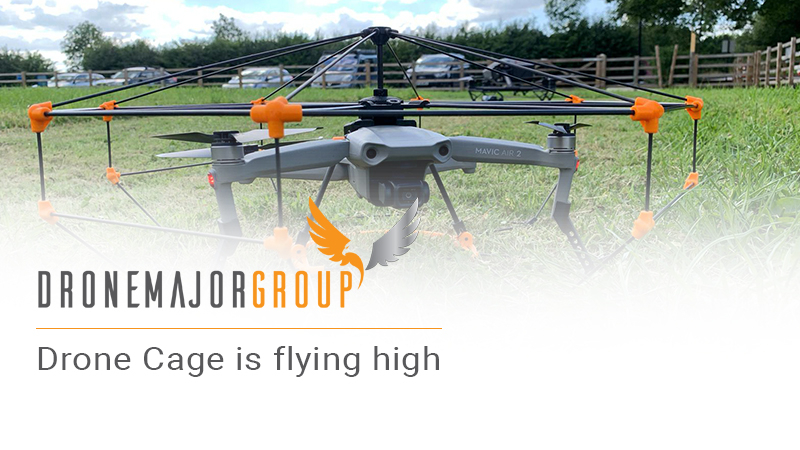 "It was clear almost immediately the expensive crash barrier was not up to the job, so I spent my evenings and weekends at home designing a cage that would protect drones effectively, at an economical and affordable price," said James.
"I found a few cheap products on the market, but they appeared to be for the hobbyist sector: none was up to the job of protecting a drone in a hazardous environment while allowing it to do a professional task.
"The first Drone Cage I designed and printed was for the DJI Mavic Air 1. I was thrilled with the results of the initial testing – it would take a big impact to make the Drone Cage shatter. It's lightweight so it doesn't hamper flight, coupled with the intelligent airframe design, allowing the cameras to record and take photos with an unobstructed field of view, and it can be printed in corporate colours. It was a proud moment when I registered the designs, started my own business and named it all Drone Cage®".
Perhaps one of the biggest advantages James' cages have is cost. Even the most expensive version of the Mavic 2 UAV protected by a fully accessorised Drone Cage is more than ten times cheaper than a purpose-built aircraft with a permanently fixed cage. 
Furthermore, a Mavic 2 equipped with the Drone Cage system has almost twice the flight time capability of purpose-built caged aircraft.
And Drone Cage's unique system is payload compatible, allowing the use of a wide range of data requisition systems.
All Drone Cages are built with protection as the priority. The system boasts aerospace grade carbon fibre. The airframe is capable of taking 10kg of force from the top and 8kg from the front, rear and sides. No other cage system can boast these credentials.
And when it comes to positioning, the Drone Cage allows full use of the DJI video stereo positioning system, one of if not THE best UAV positioning systems currently available. Drone Cage takes full advantage of this and is fully compatible.
Inspection companies likely own one or several DJI aircraft and a Drone Cage further extends the already superior capabilities of existing equipment without the need to buy expensive single-function aircraft. An inspection can be carried out in a confined space, immediately followed by the same aircraft being used for external photogrammetry. Purpose-built aircraft are unable to fulfill this role.
"We have so far designed and sold Drone Cage® systems for the DJI Mavic Air 1 and 2, Mavic 1 and 2, and DJI Phantom 4 with two further designs in progress," said James.
Drone Cage® has recently released version 3 of its DJI Mavic 2 airframe – with improvements including 15% greater strength, 107g less weight, no propeller bumpers, less susceptibility to wind and a wider front opening. It is super light, agile and rugged, protecting your drone while making small spaces big opportunities.
"It takes many hours to print all the components and many more to build the Drone Cage, all of which we complete in-house, but at a retail price of less than £400GBP it offers companies a way of protecting a drone that might have cost thousands and helps accomplish tasks that would have needed very costly procedures without the use of a drone," said James.
Companies around the world have been quick to realise that each collision the Drone Cage takes could save them the price of a new drone.
Via his website: www.drone-cage.co.uk James and his team have shipped airframes to numerous countries including the USA, Malaysia, Canada, Australia, Belgium, Germany, New Zealand, Norway, The Netherlands, Hong Kong, Singapore, South Africa, China, Argentina and Hawaii.
And Drone Cage® is committed to minimising its carbon footprint. 
Green energy is used to print the components and as many as possible are biodegradable plant products so if an airframe did get lost in an inaccessible area it would, in time, break down.
---