Editorial Feature
---
FLY-R wins the First Prize for SOFLAB Innovation during SOFINS 2023
The exclusive Special Operations Forces Innovation Network Seminar SOFINS 2023 was held in Bordeaux, France, from 28 to 30 March 2023.
FLY-R SAS was invited to participate and exhibit its latest products and innovations.
FLY-R boot displayed its products such as the R2-150 and other rhomboid wing aircraft developments. A special emphasize was put on the R2-120 "RAIJIN" that was made public shortly before the show.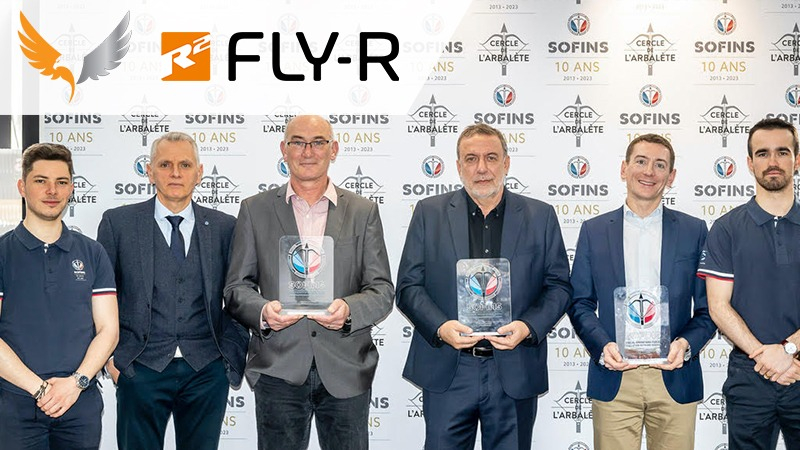 Among 178 high-tech companies in the field of defence, FLY-R was proud and honoured to be awarded the prestigious First Prize for SOFLAB Innovation.
FLY-R innovations and their usage for the Defense Forces were recognized by an independent jury composed of major actors of the defense ecosystem, in the industrial, scientific and operational fields.
The first prize for innovation was handed to FLY-R management during the 10th anniversary Gala of SOFINS by Mrs. Florence PARLY, former French Minister of Defence.
About SOFINS:
The 2023 edition marked the 10th anniversary of SOFINS, the Special Operation Forces Innovation Network Seminar that gathered on 28-30 March at the CAMP de Souge, close to Bordeaux a considerable number of exhibitors and delegations. Organised by the Cercle de l'Arbalète, the event saw the presence of the top brass of the French Special Forces community, as well as that of the General Delegate for Armaments, Mr. Emmanuel Chiva, previously the head of the Defence Innovation Agency, who attended the final demonstration exercise that saw numerous SF land and air assets performing a simulated operation.
The event allows SF operators and decision makers to witness the latest breakthrough in technology applied to military software and hardware, as well as discussing topics related, among other, to the shift from decades of operations other than war to the new situation following the Russian aggression against Ukraine.
About FLY-R:
FLY-R, a Drone Major Gold Supplier, is a French company based on the island of La Réunion, a French overseas department located in the Indian Ocean, east of Madagascar. The company designs and develops a new generation of drones using a rhomboidal wing design.
FLY-R can supply fully integrated systems but is also open for cooperation's and developments based on its breakthrough solutions.
---