Editorial Feature
---
Hydrogen, Drones, Sustainable Aviation and Green Airports
The European goals are clear, carbon neutrality must be achieved by 2050, essentially with any means necessary. Transportation is responsible for about 25% of all greenhouse gas emissions and aviation is 12% of that.
While no silver bullet exists for everything then one of those technologies, which can make a dramatic impact has been hydrogen. Instead of theoretically carbon-neutral fuels such as biofuels, hydrogen vehicles produce no emissions and Europe has recognised its potential with clear and ambitious production targets of 1M tonnes by 2024 and 10M tonnes by 2030. The use in transportation being one of the key priority areas.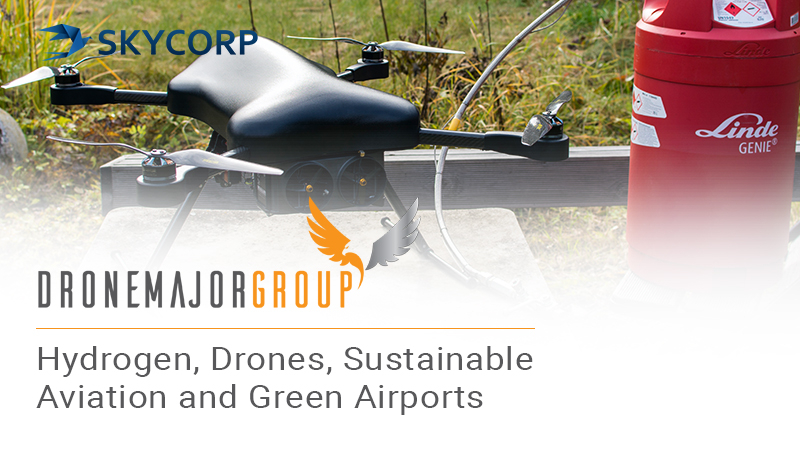 These targets mean that the use of renewable energy must also start increasing at a rapid place, new solar and wind installations, procurement for zero emission vehicles, energy efficiency in buildings and operations, grid balancing and off-grid/back-up applications not relying on diesel generators anymore.
This is a massive challenge for our cities to overcome as not only does it require a lot of new infrastructure, but it also requires that someone helps to inspect and maintain it all, provide new services and try to somehow fit into the overloaded ecosystem still.
Now fortunately, there is one area which is still relatively untapped, but which can contribute to solving these challenges and that is the increased use of vertical airspace, essentially turning cities and regions from 2D zones to 3D. (Now that would be a correct definition for a Smart City)
That is of course the increased use of drones. The ability to take services to the sky is essential not only for the lack of traffic, which is very suitable for time-sensitive logistics, but also for the aerial viewpoint, which is essential for inspection, survey and mapping applications amongst many other use-cases.
Phoenix Project at the Liverpool City Region is a great inspiring example of such an innovation zone not only looking to tackle the related challenges, but also be amongst the first to enjoy the fruits of that labour.
The city of Tartu in Estonia, the home of SKYCORP, is another city which is looking to launch its initiative to develop a Climate-Neutral Transportation Development Centre.
Tartu Science Park with the city has already joined the EU UAM Flying Forward research programme at the end of 2020, the vision entails taking it a step further. 
In addition to creating a digital aerial infrastructure, the local airport itself should be turned into a Green Airport to support electric & hydrogen aviation – whether that's eVTOL's or a place for the likes of ZeroAvia to land and refuel.
Drones will also play a central role helping to inspect green infrastructure such as solar parks, which in turn leads to increased production. Hydrogen drones, with their increased coverage area will be faster and more efficient in completing these tasks. 
As an ecosystem developer and Clean Hydrogen Alliance Mobility Roundtable member, SKYCORP's mission is to help create a sustainable regional Hub, which will host cross-industry stakeholders across the value chain and provide a location for companies to grow and contribute towards the overarching Climate Neutrality goals.
We are all looking forward to the future where we can take a climate neutral flight over long distances, but till then, let's enable green regional mobility, cities and airports.
---