Editorial Feature
---
Percepto Autonomous Drone-in-a-Box Shortlisted for Prestigious Security Technology Innovation of the Year Award
Percepto, the global market leader for autonomous industrial drone solutions, has revealed its Drone-in-a-Box (DIB) solution is a finalist for the prestigious Security & Fire Excellence Awards 2019, in the Security Technology Innovation of the Year category. The winners will be announced on Wednesday 20th November at the London Hilton on Park Lane.
Percepto's artificial intelligence powered DIB delivers aerial surveillance by navigating pre-defined patrols, providing real-time detection and tracking of humans and vehicles, as well as anomaly identification, all without the need for a pilot or on-site operator. It is currently being used in security operations by large industrial organizations around the world to improve security and safety, reduce risk, improve regulatory compliance and optimise operations.
Speaking at IFSEC International earlier this year, where Percepto premiered its next-generation DIB to security professionals in Europe, the Co-Founder and Chief Commercial Officer of Percepto, Ariel Avitan observed how: "The unique aerial perception afforded by autonomous drones will soon become part of the fabric of security and surveillance operations." He adds: "The Security & Fire Excellence Awards are the most highly respected in the security industry and we are especially proud to be recognised for our innovation in what is one of the most innovative and exciting areas of security technology development."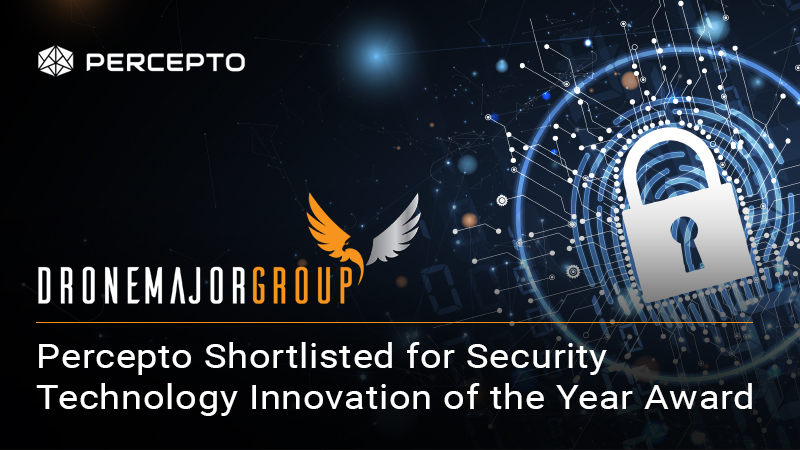 The latest drones provide a surveillance camera in the sky that enables security professionals to monitor and respond across a far wider geographic area much faster, and because it is truly autonomous they can fly 24/7 365 even in harsh weather conditions. However, Avitan explains that this is just one advantage of the technology: "The very same drone being used to conduct perimeter patrols can also be used for maintenance and inspection duties. It is the perfect example of how security can deliver value and operational benefits to the wider organization."
Now in its twentieth year, the Security & Fire Excellence Awards has consistently broken new ground in highlighting the very best people, projects and processes that the security and fire sectors have to offer. The 2019 winners will be announced on Wednesday 20th November at the London Hilton on Park Lane.
About Percepto
Founded in 2014, Percepto is the market leader of on-site autonomous drone solutions for  critical infrastructures and industrial sites. Operating with no need for human intervention, Percepto's autonomous Sparrow drones perform multi missions, around the clock. The solution is ideally suited to any large-scale enterprises looking to improve security, increase productivity and reduce safety risks and operational costs. Organizations using the Percepto solution are better aware of events taking place, allowing them to be proactive and more efficient in addressing risks and operational needs. The Percepto Solution is currently in use around the world including Enel in Europe, as well as a number of Fortune 500 organizations. The company is the recipient of the Frost & Sullivan Global Enabling Technology Leadership Award.
---