Editorial Feature
---
The role of drones and traffic management beyond airports
With the advent of specific regulations, better technologies and greater public awareness, more drones are entering airspaces beyond those of airports, and into areas bustling with businesses and communities. 
Currently, drones are being used for monitoring, inspection and emergency response, as well as tasks that involve a high level of risk or danger to personnel like visual surveys and maintenance in bad weather or hard-to-reach places. Drones are also cost-efficient to employ in activities such as round-the-clock surveillance. And their capability is yet to be fully harnassed. 
In the recently published white paper on Unmanned Traffic Management: Enabling Drones in Ports, Unifly looks into a newly identified industry which is slated to benefit from the use of drones within its airspace – ports.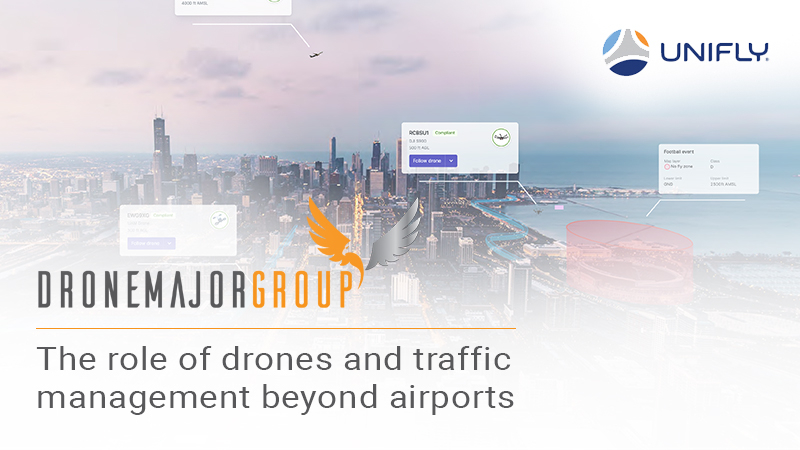 In 2019, Unifly collaborated with Port of Antwerp in SAFIR, a European research initiative, to investigate how drones can benefit the port and its wider network. Since then, Unifly has also been involved in a large-scale and phased commercial rollout of drones in the port area. This led to a precedent being set with Port of Antwerp managing its own airspace with Unifly as its partner for drone traffic management.
Using technology in smart way
Drone solutions are currently evolving and becoming beneficial to many industries. Industry experts are recognising their role in alleviating some of the issues or challenges arising from rapid urbanisation. And in the near future, many agree that logistics, transportation, delivery and data gathering are just some areas where drones can further play a greater role.
As part of a broader 'Smart Ports' trend, drones meet port objectives of digitisation and operations efficiency. As such, they present an opportunity to increase the value proposition and attractiveness of the port to its tenants and partners. 
This case study about the Port of Antwerp illustrates what ports can do to embed drones into their operations and also, kickstart a discussion on how port communities can level up by integrating drones in their operations. 
Similar to ports, areas involving critical infrastructure like energy farms, wind farms, data centres, railway networks and densely populated cities will benefit from drone solutions and a progressive adoption of Urban Air Mobility (UAM) for a variety of reasons:
Optimise round-the-clock safety and security capabilities through dynamic drone surveillance 
Establish real-time situational awareness on the ground and in the air, also for relevant authorities and business partners 
Minimise workplace accidents and inaccuracies in high-risk operations 
Enhance logistics capability like emergency or last mile deliveries 
Reduce carbon footprint by operating as an energy-efficient and environmentally friendly site 
Smart spaces need drones, and as such, they need UTM as well. 
Managing drone traffic will be integral to how safe and seamless these benefits can be transferred on to stakeholders, including the public at large.
To facilitate safe drone operations and leverage these benefits, Site Authorities have a number of important responsibilities: manage drone access, coordinate drone traffic, protect the area against unauthorised drones, and support the provision of drone services by connecting different stakeholders involved. 
Hence, Unmanned Traffic Management (UTM) technology is key to assisting authorities in fulfilling this complex mission. 
UTM technology in a nutshell
An Unmanned Traffic Management (UTM) system consists of a software platform supplying a suite of services to drone operators and authorities. 
The services are highly automated and designed to ensure the following: facilitate safe access to the airspace, enable seamless information exchange between all involved, and coordinate drone traffic, all while maintaining the highest level of airspace safety. 
With respects to critical infrastructure, UTM technology is, as always, crucial to keep use of airspace safe for both manned and unmanned aircraft, enhance site operations without creating manpower friction and create new market and value networks, if any, for both site owners and its business partners.
Presently, Unifly's UTM technology is considered by national airspace authorities worldwide to be robust and sophisticated enough to ensure drones are seamlessly and safely integrated, even for large-scale, country-wide deployments.  
The system streamlines data exchange and workflow interaction so relevant authorities and any participating operator can use this system to monitor their airspace as well as plan and manage drone operations. 
An industry first, Unifly's platform can simultaneously accommodate multiple workflows and multi-layered authorisation processes needed for real-time surveillance and detection within any busy airspace, especially beyond those of airports. 
---