Editorial Feature
---
Why you should be outsourcing your data analysis
Are You spending unnecessary resources on in-house analysis, or are you right to hold off when it comes to outsourcing? Trusting an external company with Your data analysis might feel daunting, but in many cases, it can actually save You a lot of time and even increase the quality of inspection results. However, sometimes it just isn't right.
So how do you know? Read on.
So how do you know? Read on.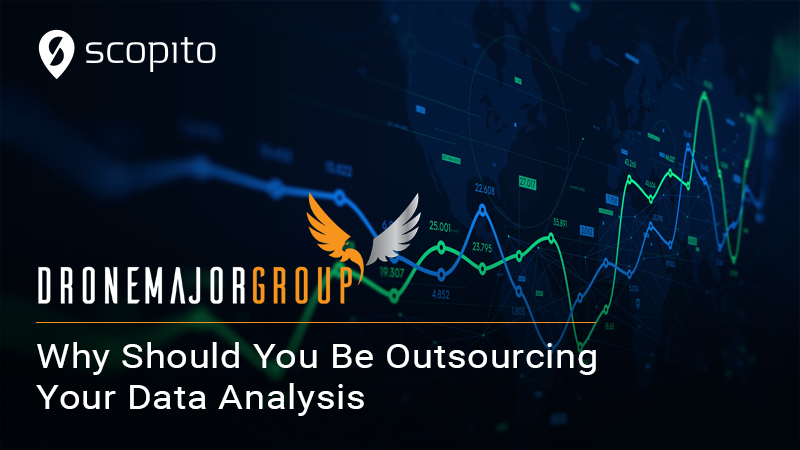 There are many factors to consider, before deciding whether to outsource your data analysis. We aim to aid that process, by breaking it down, and presenting the key points, enabling you to make the right decision for Your company.
The advantages
There are tons of advantages to external data analysis, and with specialized companies popping up left, right and center, there are also plenty of options to choose from. You will be saving a lot of time outsourcing. And time is money. But data analysis is not cheap, and you should always consider if it is a viable solution, compared to what You are currently doing. Generally, the costs should not exceed the ones You have now.
However, when considering Your current costs, you have to remember, that removing data analysis from Your workflow, frees up time for other – possibly more valuable – tasks in your team. If spending more time on those tasks, would increase Your overall revenue, that is worth factoring in.
Then there is the matter of expertise. Sure, you can hire less qualified people at a lower price, but the results will be thereof. Data analysis is a key operation, and something that can have major repercussions, if not properly executed.
When you hire a third-party to analyze Your data, they are specialists within their field. This means that you can rest assured, that the most valuable part of Your business (Your data) is being handled accordingly.
Artificial intelligence
Most companies today claim to have running AI functionalities, and the positive effects from this type of software should not be disregarded.
Artificial intelligence can analyze and annotate large amounts of images in short time spans, making Your inspections effortless as well as very, very accurate.
It is also worth noting, that an algorithm makes no mistakes. It will identify every faulty object, whereas a person might be tired or otherwise preoccupied, and resultantly miss something important. This is especially true, when inspection data is complex, as the margin for error there is much smaller.
AI seems like the way to go, and it will be. In time. The problem with most AI software today, is that it is relatively new.
To learn, AI-software needs tons of data, and there simply are not many products that are fully developed yet. The industry is getting there, and for some types of inspections, like wind turbines, there is very good and accurate software, that you should be taking advantage of. As for other inspection types, Your data could help that software learn and improve, which would eventually help You.
Choosing to outsource Your data analysis to a company utilizing and improving their AI-software, can be a major advantage for You both now and in the long run.
At Scopito, Your data is constantly helping our AI learn, and the tools that it already masters, are always at your disposal.
Considering the future of your business
As AI gets more advanced, the days of analyzing data using human intelligence, will be over. Anyone who does not have their own artificial intelligence software, will have to outsource.
As a result, companies need to ask themselves, if they intend to develop their own software in the future. If not, it might be a good idea to establish a partnership now. This can free up resources, which will allow You to build or improve other core competences, that are more beneficial to Your focus area.
Choosing a partner
Good partnerships will bring immense value to Your business, and bad ones could drain it. Do your research, before deciding on a partner.
Considerations:
Do they have or plan to develop AI? Make sure to get proof of functionality, as most AI software today is very early stage.
Do they have good references? References mean experience, and in an early stage market, this is worth gold. If a company can sport good references, from businesses similar to Yours, there is a strong likelihood that you will find value in their product too.
Can they assist you in several areas of operation? Choosing a partner that offers more than just data analysis, might be a good idea for you. Instead of bringing in four or five different programs, which needs to be learned, integrated and maintained, you should look for a distributor that can handle all – or most of – Your operations.
Plan for the future When You do partner up with an external company, think ahead; what can they offer, that You might need in the future? It might seem less relevant now, but you will pad yourself on the back in two years, when you don't have to move tons of data. It can often be an advantage to look for a company which focuses on partnerships, over one that tries to do everything themselves. A partner with many contacts, can also help you create new connections.
Find a couple of interesting possibilities and ask for a demo. Before making your final decision, be sure to investigate all the aspects in which the company can help You succeed.
---