Editorial Feature
---
For Aerobility, the Sky is the Limit...
Published May 1st 2019
Words By: Drone Major
Drone Major Group is excited to partner with Aerobility, a registered charity that offers disabled people (without exception) the opportunity to fly and participate in aviation-based activities. Over the past 25 years, the Aerobility team has tirelessly worked to remove significant barriers to enable those with physical, learning or mental health impairments to feel a sense of achievement, accomplishment, pride and freedom.
When they started in 1993, Aerobility was a simple organisation with a small team and limited space and equipment. Today, the charity has grown to include a fleet of five aircraft, classroom space for instruction and locations in several major UK cities. Every year, Aerobility helps over 900 disabled individuals to develop the life skill of aviation to not only build their confidence but also their chances of future employment within the industry. For people who live a life full of "No's," Aerobility serves as a fundamental "Yes" – proving to these individuals that they can fly a plane opens up a world of endless opportunity in their mind.
The work that Aerobility does to improve the quality of life – both short and long-term – for disabled members of the community is truly remarkable. While they facilitate primarily small aircraft piloting at the moment, Drone Major believes that expanding the horizon to also include instruction and guidance on drone operations could greatly benefit both the Aerobility community, as well as the drone industry as a whole.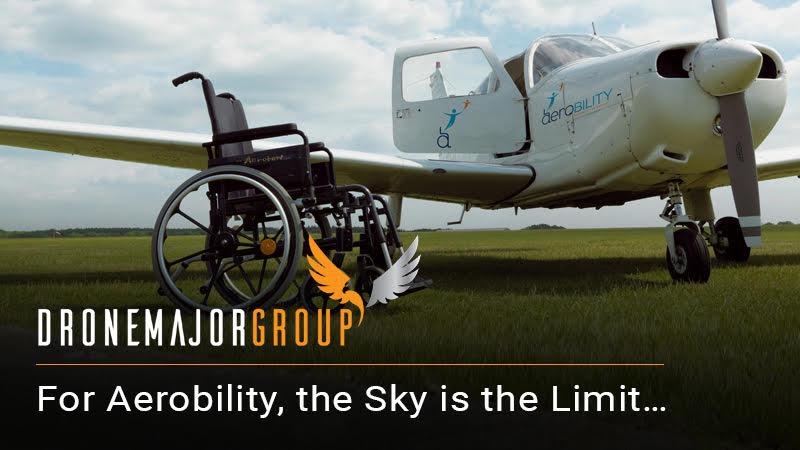 It is through donations (of both time and money) that Aerobility is able to continue offering help (and hope) to those who struggle to find a sense of achievement in their day to day life.
If you are interested in learning more about Aerobility or about how your drone or counter-drone business could get involved alongside Drone Major in broadening the horizons of Aerobility's mission, get in touch with [email protected].
Learn more about Aerobility here.
---